Special Cause Challenge #3
Start June 1st Closed June 30th
Guidelines: 3 1/2 '' x 2 1/2 '' Size
1 card per person please.
All finished cards will be posted on blog
Winner will be chosen by vote.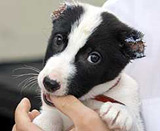 About the cause Pet Abuse
There are many different reasons why individuals abuse animals. Animal cruelty covers a wide range of actions (or lack of action), so one blanket answer simply isn't possible. Each type of abuse has displayed certain patterns of behavior that we can use to help understand more about why people commit the crimes we encounter today.
Entry's
Melissa
Little Wilson